Welcome to the online press kit for Neale Donald Walsch -
A worldwide leader on healing from devastating change

"The issue of sudden and abrupt change is one of the biggest social problems we have in the 21st century." Neale Donald Walsch
Every day people face tectonic shifts in the foundations of their lives, from economic security to health and relationships. In their search for guidance, millions have turned to a man who triumphed through change after a series of crushing personal blows: author Neale Donald Walsch.
Walsch is known globally for his nine-book, New York Times Bestselling series Conversations with God. His books have sold more than 7.5 million copies worldwide and been translated into 37 languages. An expert on belief systems, he has traveled globally to study faith traditions worldwide.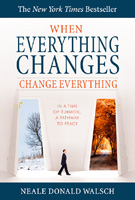 His new book, When Everything Changes, Change Everything: In a Time of Turmoil, a Pathway to Peace, is also a New York Times bestseller and speaks to the heart of every person who has lost their bearings in the aftermath of a major life change.
Walsch talks with people who have lost their jobs, homes, health and relationships under stress from the recession and other changes.
"When I am speaking to audiences and ask how many have experienced major changes in the last six months, 85 percent of hands go up," Walsch says. "This is common in every audience I speak to."
In each instance of change, whether it is the end of a relationship, loss of a job, or a health crisis, each person can -- using the tools provided here -- find their way from agitation to peace, from hurting to healing, and from anger back to a new and vibrant readiness to tackle life again.
When Everything Changes, Change Everything distills insight on moving through change -- even change that is unexpected, unbidden, and unwelcome -- from a place of balance rather than imbalance and with a deep spiritual resourcefulness drawn from the more than 3,000 pages of Walsch's previous bestselling books.
The book grew out of his desire to give people the tools they need to thrive through change. A sophisticated new Web site, www.changingchange.net, will allow readers to connect, support one another and interact with the author. Walsch spends time online each morning interacting with people all over the world through his Messenger's Circle at www.nealedonaldwalsch.com.
This experience and many others over his life and long communications career literally give Walsch a finger on the pulse of humanity. Like his previous works, When Everthing Changes, Change Everthing is destined to become "living literature" for everyone seeking a new path through change.

"My determination is that people will never be alone during their time of difficulty," Walsch says.
Visit Neale Donald Walsch's public Web site: www.nealedonaldwalsch.com.
Download Neale Donald Walsch's One Pager.
This press kit is designed to meet the needs of the media. Media Contact is Michelle Tennant: Michelle@publicityresults.com, 828-749-3200.